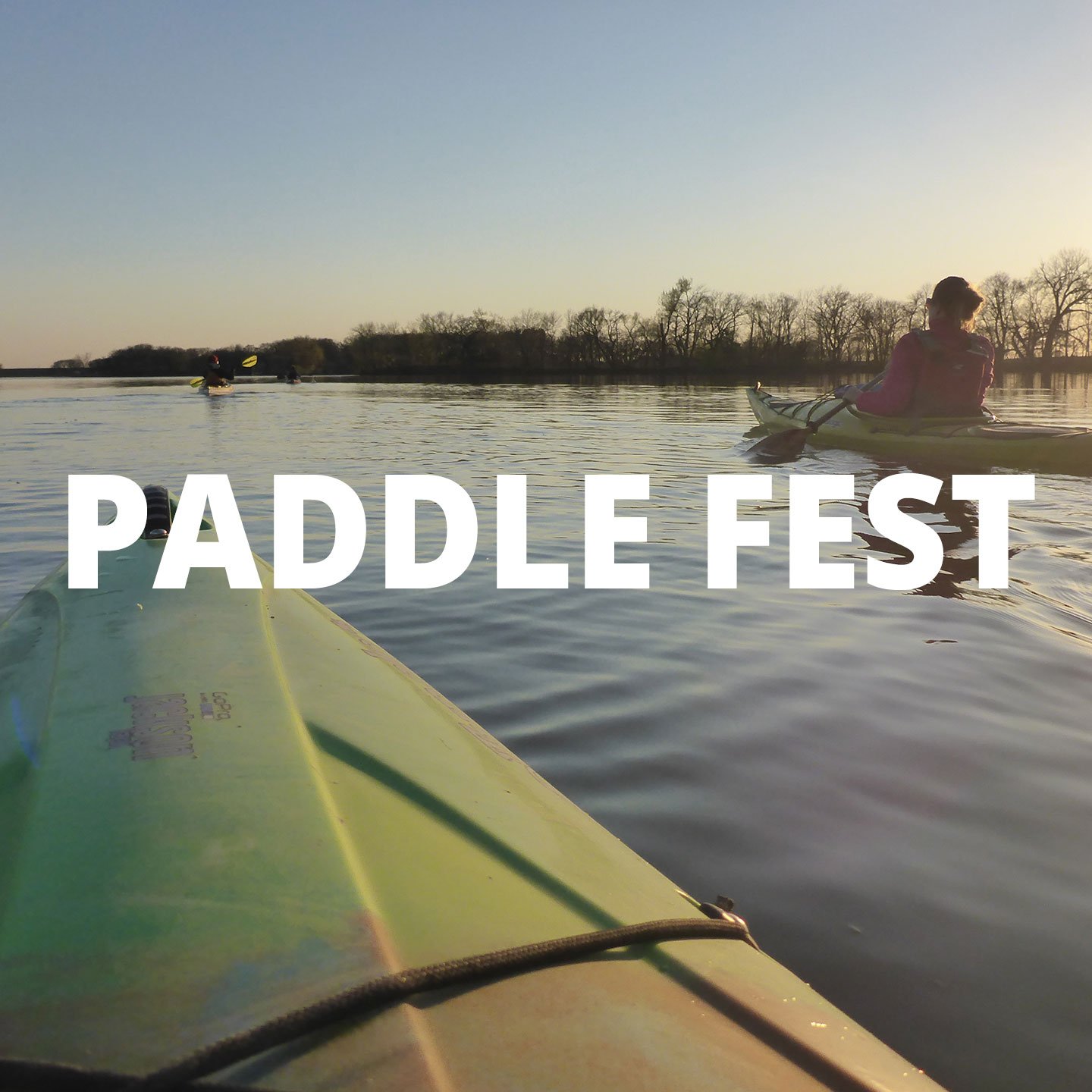 PADDLE FEST
January 25, 2020
Mark your calendar for January 25, 2020! CrawDaddy Outdoors in Waverly, Iowa is hosting Paddle Fest at the W in Waverly, Iowa.
Paddle Fest will offer presentations for beginners, seasoned paddlers and river activists. Plan on spending a day in Waverly sharing stories and organizing your next paddling adventure.
PADDLE FEST
January 25, 2020
Co-Sponsored: CrawDaddy Outdoors
COST
($10) College Students & Youth under 18 years
($15) Adults
Use this product page to purchase your tickets now, and your name will be added to our registration guest list. Please print confirmation.


LOCATION
Wartburg-Waverly Sports & Wellness Center
100 Wartburg Blvd
Waverly, Iowa 50677


A one-day event dedicated to education, stories,
vendor booths, and breakout sessions for
paddlers and river activists.

Plan on spending a day in Waverly sharing
stories and organizing your next paddling
adventure.

For More Info:

https://www.crawdaddyoutdoors.com/crawdaddyoutdoors/classes.htm


2019 Presentations - (2020 sessions coming soon)
Presentations
7:00 - 8:00 Pool Session 1
Basic Paddle Stokes, Safety and Boat Control - Darrin Siefken
CrawDaddy Outdoors owner Darrin Siefken will discuss and demonstrate the basics of paddling strokes, safety and boat control.

Whitewater Roll Clinic -Hannah Ray J and Marty Colbert
Hannah, a Jackson Kayak Pro Team member along with Marty will go over the basics of whitewater kayaking, roll technique, and troubleshooting why your roll isn't working or needs a little tweak.

8:00 - 9:00 Pool Session 2
Kayak Rescue Techniques -Darrin Siefken
All paddlers experience the inevitable capsize. Darrin will demonstrate a variety of ways to get back in your kayak by yourself and with a helper.

Stand Up Paddleboard Clinic - Hannah Ray J
Hannah Ray J, Badfish SUP Pro Team Member will demonstrate the basics of SUP, paddles, gear and paddling technique.

9:00 - 9:15 Welcome

9:15 - 10:00 Session 1
Bound for Barrens - Vern Fish
Caribou, cairns, and curling waves are just a few of the images from the shores of Nueltin Lake and the Thlewiaza River. Seals, musk ox, grayling, tombstones, abandon cabins, thundering rapids and the occasional black fly were also part of the adventure. Paddle with me for 300 miles and relive a segment of Ernest Oberholtzer and Billy Magee's 1912 epic 2000 mile adventure across Northern Manitoba and the Territory of Nunavut to Hudson Bay.


10:15 - 11:00 Session 2
Kayak Fishing 101 -Tanner Speidel
Join Jackson Kayak and Bending Branches Pro Team Member Tanner Speidel as he goes over the basics and advanced techniques for kayak fishing. Learn about kayaks, fishing gear, kayak fishing accessories and techniques to catch the big ones.

Iowa Paddling Destinations and the Tools to Get There John Wenck - Iowa DNR Water Trails Coordinator and Todd Robertson - Iowa DNR River Programs Outreach Coordinator
With so many streams and lakes in Iowa, there is always somewhere new to paddle and explore. Let's talk about some of the hidden gems and where they are located and review the new tools that the Iowa Department of Natural Resources is making available to the public to help you plan your trip.

Iowa Rivers Revival - Molly Hanson
Molly will discuss the role IRR plays in protecting our waterways for water trails.

11:15 - 12:00 Keynote Speaker
Iowa Flood Center - Using the Iowa Flood Information System (IFIS) to Make Paddling Decisions Daniel Ceynar
Daniel will be presenting the Iowa Flood Center's (IFC) publicly available online tool called the Iowa Flood Information System (IFIS), and bring an IFC stream gauge to display. IFIS brings together a multitude of tools including all of the stream gauging in Iowa. Daniel is one of the engineers who designed the IFC stream gauges, installed all 250+, is an avid paddler, and a canoe based river clean-up coordinator/participant. He will display IFIS from the perspective of how a paddler might use it to make paddling decisions.

12:00 - 1:00 Lunch and Speaker
Old Portages and New Country: The Wabakimi Project Ray Tallent
The Wabakimi Project was started by "Uncle Phil" Cotton in 2004. This remarkable endeavor supported dozens of volunteer canoe trips each summer, with the goals of exploring and mapping canoe routes in and around Wabakimi Provincial Park, Ontario. This presentation is a celebration of Phil Cotton, who passed away in May 2018, and a reminiscence on some of the beautiful boreal country he and his widespread crews paddled and portaged. It will include options for travel and how to obtain maps that the Project produced.

1:00 - 1:45 Session 3
Cold Water Paddling - Hannah Ray J and Marty Colbert
Hannah and Marty kayak year round. Discover how they keep warm while paddling in the colder months.

Dry Run Creek/Miller Creek Watershed Projects -Josh Balk and Clark Porter
Discover two local creeks in Black Hawk County and the efforts that are being done to protect them. Find out what you as a paddler can do to be a part of the solution.

Kayak Angling Tournaments - Tyler Cole and Scott Schrader
Iowa Kayak Anglers members Tyler Cole and Scott Schrader will discuss the kayak fishing tournament scene in Iowa. They will discuss tournaments and how to prepare for and compete in a kayak fishing tournament.

2:00 - 2:45 Session 4
Boundary Water Kids and Families - Waverly Families
Find out about the awesome trips several Waverly dads have completed with their kids over the past two summers. They have done a dad and daughter trip as well as a dad and son trip. Discover the fun they have had, how to plan a trip, and the pitfalls that have come with taking on this adventure.

Black Hawk Co Water Trails - Codie Leseman
An overview of the Black Hawk County Water Trails Master Plan as they move toward official State designation of the Cedar River and Black Hawk Creek Water Trails.

Iowa Natural Heritage Foundation - Brian Fankhauser
Iowa Natural Heritage Foundation has been protecting Iowa's land, water and wildlife for nearly 40 years. Your invited to hear how this statewide, non-profit organization partners with other groups and individuals to protect the natural resources we all cherish. The presentation will focus on protection efforts along popular water trails and rivers, with a focus on one of the most scenic and recreated rivers in Iowa, the Upper Iowa River.

2:45 - 3:15 Community Share
This is your opportunity to share with those in attendance anything you want to regarding paddling groups, trips, questions, or anything else related to paddling.


3:15 - ? Reception at CrawDaddy Outdoors
We will have an afterhours reception back at the store only for those in attendance at Paddle Fest. Join us for some beverages and snacks as well as some great deals throughout the store. Deals are found on the next page.

After Hours Deals at CrawDaddy Outdoors
15% off 2018 Kayaks
25% off 2017 Kayaks
25% off in stock Pedal Drive Kayaks (excludes Jackson and Blue Sky Boatworks)
40% off clothing
25% off everything else in the store.

Exhibitors
Iowa Natural Heritage Foundation - Brian Fankhauser
Iowa Flood Center - Daniel Ceynar
Cedar Valley Paddlers - Pam Wolter
Iowa River Revival - Molly Hanson
Black Hawk Co Water Trails - Codie Leseman
Dry Run Creek/Miller Creek Watershed Projects -Josh Balk and Clark Porter
Iowa DNR Water Trails Program - John Wenck and Todd Robertson
Iowa Kayak Anglers - Tyler Cole and Scott Schrader
Charles City Whitewater Park
Cedar Falls Tourism and Visitors Bureau
Odessa Water Trail - Katie Hammond and Dan Hall