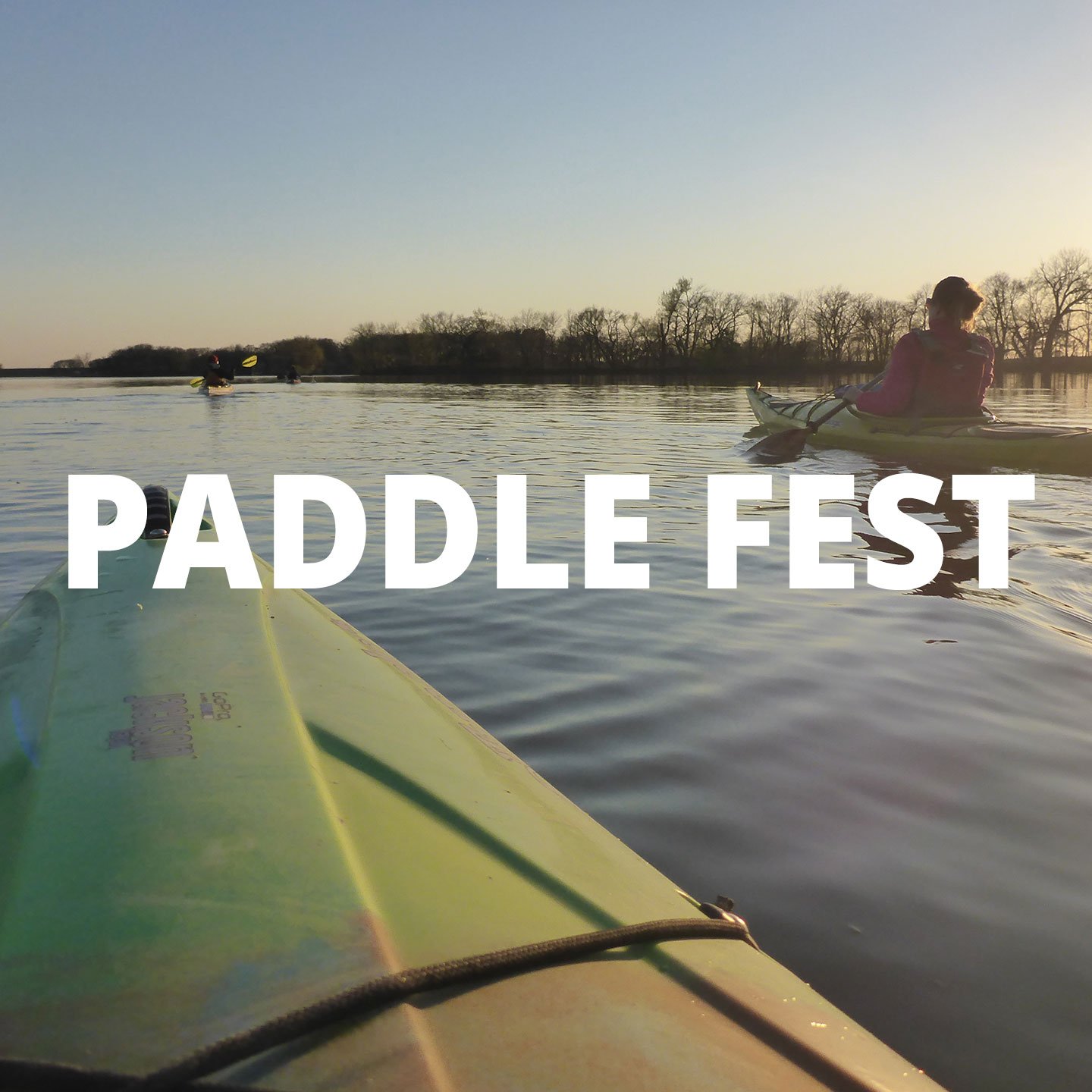 Paddle Fest 2023 - The W at Wartburg College

Hosted by CrawDaddy Outdoors and Vern Fish

West Room

Middle Room

East Room

7:30 - 9:00

Registration/ Exhibits

8:00 - 9:00

Boreal Birds and the Big River

Vern Fish

9:00 - 9:15

Welcome

9:15 - 10:00

A 99 County Tour of County Conservation Parks

Sherry Johnson

4500 mile Whitewater and River Surfing Adventure

Hannah Ray J and Marty Colbert

Kayak Fishing in the Driftless Region

Tanner Speidel

10:15 -11:00

Minnesota Water Trails

Erin Bjork

Boundary Waters – Trip Planning

Jim Janssen

How To Get Started In Whitewater Kayaking

Chuck Ungs and Lynne Majetic

11:15 -12:15

Keynote Speaker

Missouri River: 3 Forks MT to the Gulf of Mexico - 3700 Miles of Fun

Dave Hillman

12:15 -1:00

Lunch /Exhibits

1:00 - 1:45

Charles City Whitewater Park and the Charles City Challenge

Ginger Williams and Hannah Ray J

Paddling Waterfall Heaven on the Rio Claro, Chile

Glenn Harman

Kayak Journaling

Rene Robinson

2:00 - 2:45

Befriend A Watershed - Aligning Conservation And Recreation

Clark Porter and Josh Balk

Paddling The Maquoketas - Dubuque County

Dan Cohen

Emergency Repairs on Trips

Vern Fish

2:45 -3:15

Community Share

3:15 – 4:30

Iowa Whitewater Coalition Annual Meeting at The W and Reception At CrawDaddy Outdoors
Presentations
7:30 - 9:00 Registration and Exhibits
8:00 - 9:00 Session 1
Boreal Birds and the Big River - Vern Fish
The Big River is actually a little river that flows through a remote segment of the Wabadowgang Noopming Forest three hours north of Thunder Bay, Ontario. This small river is an historic canoe route with outstanding wilderness values. We explored this wild river with a paddle, bird book and an audio recorder. Waterfalls, rapids, rugged portages and species at risk can still be found along this challenging wilderness canoe route.
Many of the birds that nest in the boreal forest past though Iowa during the migration. The two organizations, the Friends of Wabakimi and Ontario Nature formed a partnership to conduct a bird survey of the Big River Watershed. This survey was used as an argument to protect bird habitat and the wilderness values of the Big River canoe route. "This trip was a great demonstration of combining efforts and resources for a common goal of protecting natural spaces and species," said Kristen Setala, Community Science Intern for Ontario Nature.
9:00 - 9:15 Welcome
9:15 - 10:00 Session 2
A 99 County Tour of County Conservation Parks – Sherry Johnson
In 2018, Sherry set out on an adventure to explore Iowa and visit a county park in each of Iowa's 99 counties. Join her as she takes a look back on how it all started and hear about her travels along the way.
4500 Mile Whitewater Kayak and River Surf Adventure – Hannah Ray J and Marty Colbert
Take a ride from Iowa to Oregon and back with 4 kayaks, 6 surfboards, and all the other van-ssentials needed.
Kayak Fishing Iowa's Driftless Rivers - Tanner Speidel
Iowa can be broken down into two areas; the driftless and everything else. Tanner will discuss how the area is unique, areas to paddle, and how to catch the cold water fish.
10:15 - 11:00 Session 3
Minnesota's Water Trails – Erin Bjork
Join a Conservation Corps Minnesota & Iowa Field Coordinator for tales from the MN Water Trails, a 4,500+ mile system encompassing 35 designated Water Trails. Bjork will discuss Water Trail maintenance theory and methods, outlining how Conservation Corps Minnesota trains crews to carry out this unique type of work in partnership with the MNDNR. Come for discussion of conservation and recreation, stay for the videos of underwater chainsaws!
Boundary Waters Trip Planning – Jim Janssen
An introduction or refresher for those wishing to explore Minnesota's magnificent Boundary Waters Canoe Area wildness or Ontario's Quetico wilderness area. Topics will include attributes of wilderness travel, desired equipment and skills, trip planning, and the rewards gained through such experiences. Presenter has lead 30+ trips and authored numerous articles in the Boundary Waters Journal.
How To Get Started In White Water Kayaking – Chuck Ungs and Lynne Majetic
Iowa is making an amazing transition - low head dams are being removed, and in their place, we are growing white water opportunities here. If you have an interest in getting started in the sport, we can offer some thoughts and ideas on how to begin, what groups you may wish to join and where you may want to look to connect with this community. While only you can really answer why – our guess is the thrill of the adventure, we are pleased to give you some direction and we'll be excited to see you grow in the sport!
11:15 - 12:15 Keynote Speaker
Missouri River: 3 Forks MT to the Gulf of Mexico - 3700 Miles of Fun- Dave Hillman
In the summer of 2022, Dave Hilllman completed a solo kayaking journey from the Headwaters of the Missouri river at 3 Forks MT to the Gulf of Mexico. The trip covered 3700 miles, 13 states and took a total of 123 days. This presentation covers the amazing wildlife, geography, history, people and places connected to the longest river system in the United States.
12:15 - 1:00 Lunch and Exhibits
1:00 - 1:45 Session 4
Charles City Whitewater Park and the Charles City Challenge – Ginger Williams and Hannah Ray J
Charles City was the first city in Iowa to develop and build a whitewater park. Learn about the whitewater park and some of the great events like the Charles City Challenge that brings paddlers from the Midwest and around the country to Charles City, Iowa.
Paddling Waterfall Heaven on the Rio Claro, Chile– Glenn Harman
Join Glenn on this unbelievable trip to Chile on a whitewater adventure.
Kayak Journaling – Rene Robinson
Creating a record of your Kayak trips is fun, creative, illuminating, history making, and helpful in solving arguments among fellow paddlers! ("10 miles! No, it was 9.8 miles!") Come learn how to improve and expand your journaling skills, discuss Your Favorite Paddling apps, master tips for better photos, and gain a deeper appreciation of paddling through journaling. Whether you use a physical journal or an online app, recording your passion has many advantages.
2:00 - 2:45 Session 5
From the Urban Scene to the Prairie Stream: Iowa's Water Quality Challenges – Josh Balk and Clark Porter
Josh and Clark will explain the signs and symptoms of Iowa's water quality threats as seen from the perspective of a paddler. They will also share ideas for how Midwesterners who care about their streams can get involved.
Paddling The Maquoketas – Dubuque County – Dan Cohen
Last year, Dan presented a travelogue for paddling the Maquoketa River in Jackson County, and just began to move on to the North Fork of the Maquoketa and Little Maquoketa rivers in Dubuque County, when time ran short. This program continues the adventure, with descriptive photos and information of what to expect while meandering down these shallow water trails. If time allows, the program also will include a short stretch of Lytle Creek as it winds through the Driftless Area.
Paddling Emergency Preparedness (PEP) – Are you ready? –Vern Fish
Have you ever had to deal with a serious injury on a canoe trip? Have you ever been truly lost in the "wilderness"? If it breaks, can you fix it? Have you ever had to make either an emergency or a non-emergency exit? Do you carry whistle and are you PEP'ed and ready?
Meet my Guardian Angel and understand the difference between "next of kin" and "friends & family". Experience an emergency exit and see the value of a satellite phone. Dig into my first aid and repair kit and tell me what you carry. In the past five years I have had to do one emergency and three non-emergency exits. Together, we can both learn how to prepare for these unplanned adventures.
2:45 - 3:15 Community Share
This is your opportunity to share with those in attendance anything you want to regarding paddling groups, trips, questions, or anything else related to paddling.
3:15 – 4:30 Iowa Whitewater Coalition Annual Meeting at The W
The Iowa Whitewater Coalition will be having its Annual Meeting at Paddlefest! The IWC meeting agenda will include: (1) A short review of the 2022 IWC Year in Review Highlights by Dave Hillman; (2) An Update on the IDNR low head dam mitigation activities by Glenn Harmon. The IWC meeting is open to everyone - please join us to wrap up the Paddlefest day of paddling fun and education!
3:15 – 5:00 Reception at CrawDaddy Outdoors
We will have an afterhours reception back at the store only for those in attendance at Paddle Fest. Join us for some beverages and snacks as well as some great deals throughout the store.
After Hours Deals at CrawDaddy Outdoors
20% off all in stock Kayaks, Canoes, SUP's 40% off clothing 25% off everything else in the store.
Exhibitors
CrawDaddy Outdoors
Conservation Corps of Minnesota/Iowa
Iowa Natural Heritage Foundation
Dry Run Creek/Miller Creek Watershed Projects
Black Hawk Co Water Trails
Friends of Wabakimi Provincial Park
Charles City Whitewater Park
Green Iowa AmeriCorps – Trees Forever
Waverly Chamber of Commerce
North Cedar Water Trail Network
Cedar Valley Paddlers